Everything about colorbirds and your application
Colorbirds
application
YOUR DEPLOYMENT
BILLING
App
EVERYTHING ABOUT COLORBIRDS
WHAT DOES COLORBIRDS DO?
colorbirds is a recruitment agency for hostesses and hosts, promoters and models in the Greater Bavaria area. As a partner of Messe München and Messe Nüremberg, there are a particularly large number of jobs at trade fairs as well as at conventional events and promotion campaigns.
Despite digitization, personal contact is very important to us at colorbirds! We are a rapidly expanding community and our colorbirds come from many different countries. We love it so beautifully colorful! Our motto is: "We are all ONE".
WHICH CITIES DOES COLORBIRDS WORK IN?
We offer a large number of flexible part-time jobs in the greater Munich and Nuremberg area. From time to time, we are also represented in other major cities such as Hamburg, Cologne, Düsseldorf and Frankfurt. Include all the cities that would come into question for you in your personal profile under locations.
WHAT SHOULD I BRING TO BECOME A COLORBIRD?
You should definitely be likeable and outgoing and enjoy dealing with people. You should also have a well-groomed appearance and enjoy working in a team. In addition to very good knowledge of German, other languages are advantageous. Even if it's your very first job at colorbirds, don't worry! We will then consciously place you with experienced colorbirds who will be happy to show you everything.
Here let's go to the application.
HOW AM I EMPLOYED AT COLORBIRDS?
colorbirds offers jobs exclusively via so-called "short-term employment".
Benefits:

In contrast to the mini-job on a €520 basis, short-term employment is not taxed at a flat rate. Therefore, you will be registered by us with your income tax class in the months in which you work as a colorbird.
you are insured by us during your assignment and on the way there
short-term employment allows you to work only when you want to. You are not obliged to work a minimum number of hours per month
short-term employment is exempt from social security contributions. So you have little or no deductions, depending on how much you otherwise earn parallel to the colorbirds job.
HOW CAN I REACH COLORBIRDS?
For general questions you can reach us as follows:
Our opening times are Monday to Friday from 9:30 a.m. to 6:00 p.m. If you are booked for a project, you can reach your project manager directly via the message tool in the app.
WHAT LANGUAGE SKILLS ARE REQUIRED?
Good knowledge of German is important. If you speak another language, that is very welcome!
I AM NON-EU CITIZEN AND WOULD LIKE TO WORK AS A COLORBIRD:
We need your ID card or passport (front and back), as well as your residence permit and your work permit.
WHAT IS THE DIFFERENCE BETWEEN FRAMEWORK CONTRACT AND JOB DETAILS?
At the start of your job assignment, you must confirm your framework contract. It is sufficient to just confirm it in your Staffcloud profile. The contract is valid up to the end of the current year and regulates all the underlying details of short-term employment with us. This is a condition for working for us. Job details, on the other hand, will be sent to you for each separate job that you accept from us. They cover, among other things, details about who you are hired out to, your remuneration and your duties. Job details must be signed digitally by no later than one day before the start of the job.
HOW DO I CANCEL WITH COLORBIRDS?
With us, no termination is necessary, as you are only under contract for one event and are otherwise completely free. However, to stop receiving job emails, you must let us know if you wish to unsubscribe. Please write to us here helpdesk@colorbirds.de a message. It is important to know whether we should delete your data completely or whether you just want to pause, for example because you are going abroad for a few months.
"Inactive" means your profile still exists, but you will not receive any more emails from us. In this way, we can always reactivate your profile - should you wish this - and you can straight away pick up where you left off. If your profile has been deleted, you would then have to register again and go through the whole application process right from the beginning.
EVERYTHING ABOUT YOUR APPLICATION
HOW DO I APPLY TO COLORBIRDS?
Please register first here in our system. We will then come back to you as quickly as possible. As soon as your application has been registered in our system, you will be sent an email inviting you to our castings. We then arrange a date get to know you. At the moment we offer three such dates per week. Two of these are held in our offices in wonderful Haidhausen (Munich). For people not coming from Munich or the vicinity of Munich, we offer a digital appointment via teams. To register for a convenient date, just click on "Invited". If this doesn't work, send an email to our helpdesk@colorbirds.de and let us know when you would like to come.
Gathered around a table in small groups, you get to know us and we get to know you in a relaxed atmosphere. Personal contact is very important to us. Please note that we will also take photographs for your sedcard. Simple clothing and a neat hairstyle are recommended. To see how a perfect sedcard is created at colorbirds click here.
HOW DO I COMMUNICATE WITH COLORBIRDS?
If you have any queries or requests about you're assignment, please contact your relevant project management team by e-mail, via our app or by phone. For questions about accounts (e.g. payroll accounting, any adjustments in fields that cannot be changed, such as IBAN, income tax class), send an e-mail to our accounting department buchhaltung@colorbirds.de , which will be happy to help you.
Please only use WhatsApp in exceptional cases or when very important and urgent matters are involved.
WHY DOES COLORBIRDS NEED PICTURES OF ME? WHAT FACTORS HAVE TO BE CONSIDERED?
To see how a perfect sedcard is created at colorbirds click here.
The sedcard is practically your business card. We use it to introduce you to our clients – so it is a chance for you to give a convincing impression of yourself! For this we need at least 3 pictures of you: 2 portraits and 1 full-length photo. We are of course happy to receive photos taken by a professional photographer, but you are also welcome to ask your family/friends to take a few photos of you. Please make sure that you have a neutral background, that the photo is only of YOU and not part of a group photo and that the resolution of your camera is set to high. Please avoid shadows on the face/body. If you have long hair, feel free to do one of the portraits with your hair loose and one with it tied up. Please also make sure that you wear neutral clothes in your pictures (this is not the place for bare midriff, low-cut necklines, etc.). It can be a simple T-Shirt and decent trousers or a business outfit. Try to include a little variety in your pictures, so that we do not get three pictures of you with the same facial expression and in the same outfit. As a general rule, it is important that you look friendly and likeable – so pull the corners of your mouth up! Please always keep us up-to-date, if you make any changes to your outward appearance, for example changing the color of your hair. Up-to-date photographic material can be uploaded into your personal profile any time.
MY FRIEND RECEIVED A JOB OFFER BY EMAIL, BUT I DID NOT. WHAT IS THE REASON?
We often get clear guidelines from our customers after we filter our database for our job postings. As a result, you may get a job offer but your girlfriend doesn't - and vice versa. For example, the customer may have only ordered shoes in size 40 for his host/diners, but you have size 38. You see, it often depends on the little things and has nothing to do with your personality. So please don't blame us if you don't get a job offer sent to you!
I APPLIED IMMEDIATELY AFTER RECEIVING THE JOB INVITATION. WHY DID I NOT GET THE JOB?
The earlier you apply for a job with us, the higher the chance of being shortlisted. In general, there are a limited number of positions - if they are full, they are filled. In some cases we can decide for ourselves who we use for the jobs. We pay attention to how you behaved during your last assignments, what qualifications you have and whether we think the job suits you. Often the decision also depends on the customer. That's why it can sometimes take a few days before we can give you a final confirmation or rejection. In order to increase your chances, please make sure that we have sufficient and good picture material of you.
WHAT HAPPENS AFTER THE CASTING / WHEN DO I GET MY LOGIN DETAILS FOR STAFFCLOUD?
If we have gained a good impression of you, you will receive an email from us on the next day at the latest informing you that your application has been accepted. In this email you will be asked to complete your profile. This means providing your data, uploading your proof of status and confirming the framework contract. We then check whether all the data are correct and provided in full. If everything is correct, we will release your profile and you will receive your personal login details for Staffcloud. These will enable you to register in the Staffcloud app/browser and receive all future job invitations.
I HAVE NOT YET RECEIVED ANY RESPONSE TO A JOB APPLICATION. WHAT DOES THIS MEAN? 
As a rule, the final allocation of staff is made about one week before the event. Any applicants that we couldn't accept due to the high number of applications will be sent a formal rejection by us. If you have still not received any response three days before the event, you can normally assume that you have not been booked. We make every effort to inform you in good time that you have been turned down. That is sometimes overlooked during hectic trade-fair times. Please accept our sincere apologies for this!
WHY DOES COLORBIRDS NEED PICTURES OF ME? WHAT FACTORS HAVE TO BE CONSIDERED?
Here we show you how to create the perfect sedcard for colorbirds.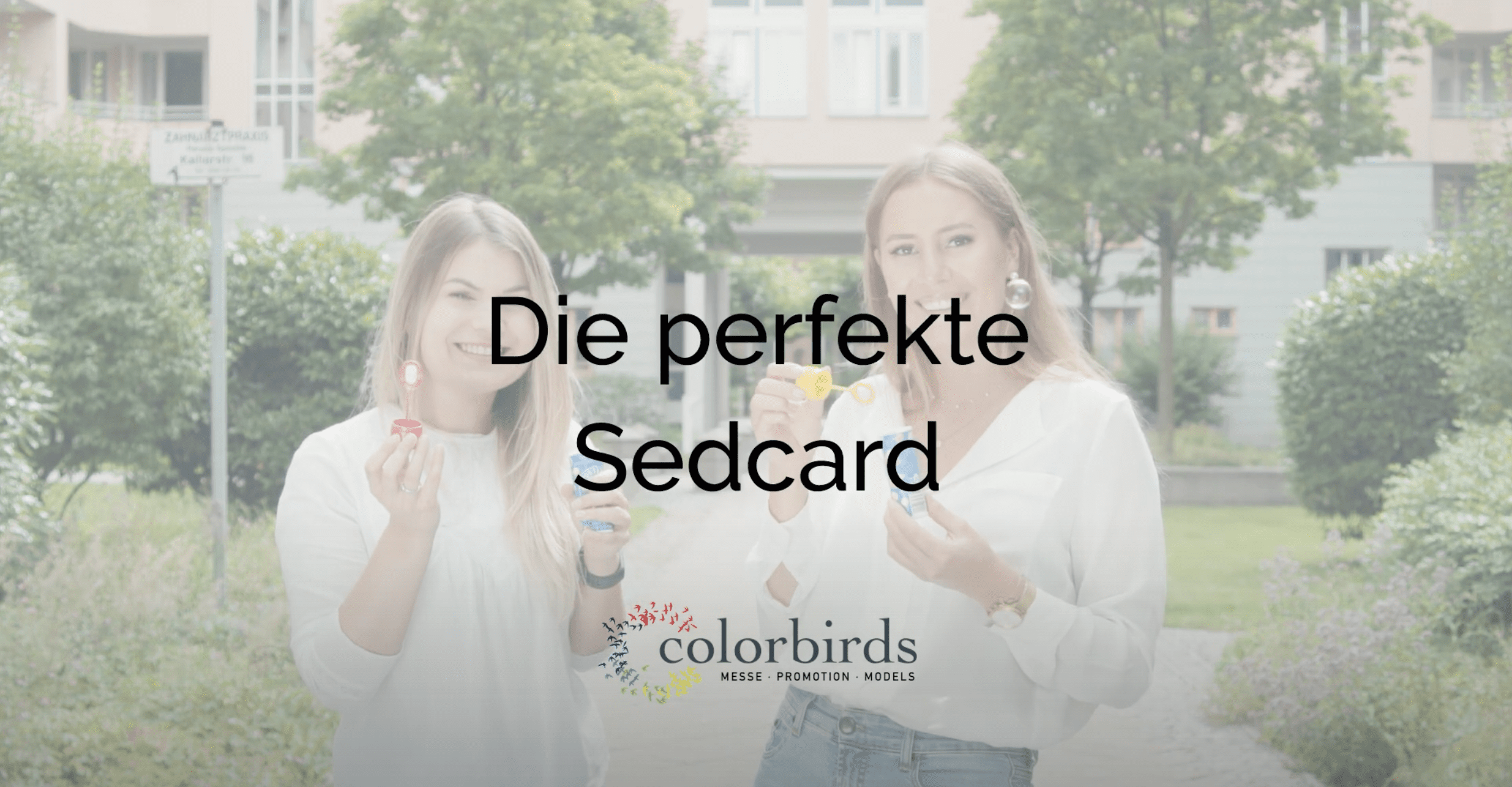 ►
EVERYTHING ABOUT YOUR DEPLOYMENT
HOW CAN I DIGITALLY CONFIRM MY CONTRACT/JOB DETAILS?
A message will automatically be sent to you as soon as your job details appear in your personal profile. Please carefully check all the data once again. If everything is right, confirm the contract by entering the date and time and clicking on "save". Your personal password for opening the PDF file will be automatically sent to you by e-mail.
Important Note: This will only work with the following browsers: Google Chrome/Firefox
WHAT DO I HAVE TO DO AS A COLORBIRD?
The tasks range from assembling goodie bags, registration and checkout activities to looking after the exhibition stand/info counter, light service activities and much more! If you've been with us for a little longer, you'll see that it never gets boring and you'll get an insight into a wide variety of areas!
I WANT TO WORK AT A JOB WITH MY FRIENDS. HOW DOES IT WORK?
We would be happy if you recommend us to your friends and our colorful colorbirds community will grow. At many major events and trade fairs you have the opportunity to work together with your friends. That makes making money twice as much fun. The earlier you announce this, the higher the chance of a joint mission.
WHEN WILL I RECEIVE MY BRIEFING?
You will usually receive your briefing 2-3 days before your assignment so that there is enough time to prepare for the check call.
WHAT IS A CHECKCALL?
The check call takes place the day before your assignment by 12:00 p.m. and clarifies all the details again. The styling, the dress code and the meeting point are discussed. We'll brief you again by phone on what the customer values and what needs to be considered - so that nothing stands in the way of a successful assignment.
WHO DO I CONTACT BEFORE MY MISSION IN CASE OF LATE TIME/ILLNESS?
In general, the earlier you let us know, the better. Please ALWAYS contact your responsible project manager (contact number in the briefing) and NOT the customer directly. This gives us the opportunity to control directly and, if necessary, to organize a replacement for you.
WHAT CLOTHING SHOULD I WEAR DURING MY OPERATIONS?
It's not possible to say that in general - it depends entirely on your commitment. Which clothing you should wear for your assignment is therefore already described in our job offers. In general, it can be said that the majority of host/food jobs require a private black and white business outfit (black trousers, white blouse/shirt, black blazer/jacket, smart black shoes). So if you don't have this and would like to do more hostess jobs, it makes sense to get this. With promotion jobs it is usually a bit more casual. Often you will be asked to wear private, neat jeans (without rips) and well-groomed sneakers - as a top you will often get a t-shirt with the customer's logo. In some cases, you will also get the complete outfit from us or our customer - you see, it always depends on the job!
WHY DO WE ALWAYS MEET 15 MINUTES BEFORE THE START OF A MISSION?
We would like everyone to start their assignment together as a team and introduce themselves to our customers together. Our experience has shown that there are always small delays. 15 minutes is therefore a good "buffer".
WHAT BREAK TIMES AM I ALLOWED TO?
Our breaks correspond to the legally prescribed break times:
0 – 6 hours daily working time: no break
6 – 9 hours daily working time: 30 minutes break
9-10 hours daily working time: 45 minutes break
ARE MY BREAKS PAYABLE?
Yes! We will also reimburse you for the breaks required by law. This also means you don't have to subtract them from your total hours on your timesheet.
HOW ARE MY HOURS ON A JOB RECORDED?
All you have to do is clock yourself in and out on site using the colorbirds app to record your actual working hours. Your project manager will release your working data once the assignment is finished and you can then see them in the App.
WILL I BE CARED FOR DURING MY MISSION?
In general, you are responsible for your own food. Therefore, please NEVER help yourself to buffets, snacks or similar without an express request/invitation from your local contact person. After all, we are there to work and not to eat away at our customers' food.
DO´S & DON´TS AT WORK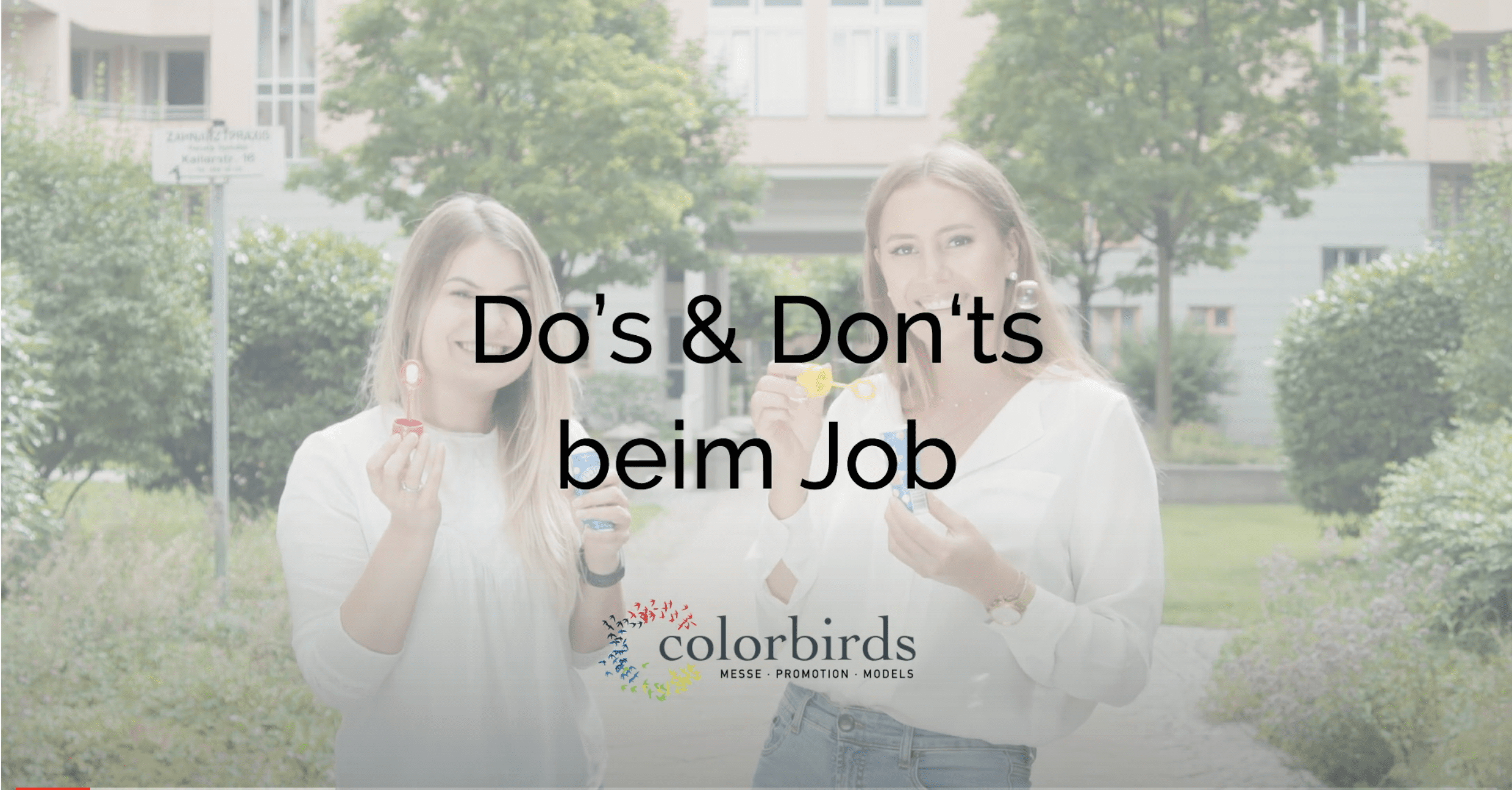 ►
EVERYTHING ABOUT BILLING
WHEN WILL I RECEIVE MY WAGE?
You will receive your salary on the 15th of the following month. If this falls on a weekend or holiday, you will receive your salary on the next working day.
Please note that when jobs cover more than one month, your pay slip will be drawn up on a calendar month basis. 
Example: You are working at a trade fair from October 28 to November 2. Your working days in October will be paid with the October pay slip as per 11/15. The working days falling in November will be paid with your next November pay slip as per 12/15.
WHY DID I NOT RECEIVE MY SALARY?
Please make sure that you have sent us all necessary personnel documents! (Proof of status, social security number, tax identification number, income tax class, account details, etc.?
WHY DO I SAVE MY PAYSLIPS?
Your wage slips may show any income tax deductions. You can claim this back at the beginning of the following year via the annual income tax return at the tax office and have it refunded.
UNDER WHICH PAY-TAX CLASS DO I PAY WITH THE COLORBIRDS?
If your work as a colorbird is your only source of income, you can state income tax class 1 on your monthly statement. If you have another job (which is not a mini-job) and is billed there under income tax class 1, you have to be in income tax class 6 at colorbirds. It is your responsibility to state the correct wage tax class on your monthly statement.
Overview of all wage tax classes (LSK):
LSK 1: Living alone
LSK 2: Single parents or those living separately who receive child benefit
LSK 3 and 5: Married (LSK 3 with the lowest deductions / LSK 5 with the highest deductions)
LSK 4: Married
SLK 6: Employees who are already being settled with another employer via SLK 1
If you still have a mini job as a student > 450 euros, please check whether you are billed at a flat rate by the mini job employer or via LSK. In the case of flat-rate taxation, you can work as a colorbird via LSK 1.
WHAT IS MY "STATUS"?
Your status describes your current employment, whether you are, for example, a pupil, prospective student, or possibly already an employee.
WHAT IS "STATUS PROOF"?
The status proof is proof of your current employment. You need:
a school certificate as a student
a certificate of enrollment as a student
an employer statement as an employee
a Statement of Intent to Study as a school leaver, if you plan to study at a university
WHAT SHOULD I DO IF MY STATUS CHANGES?
As soon as your status changes, please inform us by (buchhaltung@colorbirds.de) and send us your new status proof. It is your responsibility to have all the necessary documents and personal information before your assignment are correct and complete. before your assignment are correct and complete.
WHY CAN I ONLY WORK 70 DAYS PER CALENDAR YEAR AT COLORBIRDS?
By law, "short-term employment" is limited to 70 days per year. If you work for more than 70 days, both the employer and the employee have to retroactively pay social security contributions for the 70 days already worked. The 70-day limit applies across the board to more than one employer, i.e. if you have other short-term jobs, the days you work on all these short-term jobs are added together. It is therefore very important for you to keep a complete overview of the days you have worked and to always keep us regularly informed of the days worked in any other short-term employment, for example by sending an email to buchhaltung@colorbirds.de
CAN I WORK SHORT-TERM WITH OTHER EMPLOYERS BESIDES COLORBIRDS?
Yes, but it is your responsibility to keep track of the total number of days you have been on short-term work per year. In the calendar year, 70 days must not be exceeded - otherwise there are penalties and additional payments for your social insurance, which you have to bear. You must also note that you can only assign wage tax class 1 to one employer per month for your payroll. All other employers must be settled using income tax class 6. This is also your responsibility!
I RECEIVE BAFÖG:
Please note that there are income limits that can lead to a reduction in BaFöG. Please enquire.
TEMPLATE DECLARATION OF STUDY INTENT
Here you will find the template for the declaration of intent to study. Please upload this in your personal profile under Documents.
I STILL HAVE HEALTH INSURANCE WITH MY PARENTS:
Please note that there are income limits to be observed, exceeding which obliges you to have your own health insurance. Please inquire with health insurance.
EVERYTHING ABOUT APP
HOW CAN I CHANGE MY DATA IN STAFFCLOUD?
There are two ways of changing your personal data. In the case of data required for accounting purposes (IBAN, income tax class, address, etc.), please send an email to buchhaltung@colorbirds.de. These data cannot be changed by you yourself. You can, however, make any changes to general information, like clothes size or knowledge of foreign languages, in your Staffcloud profile via the web browser. Important Note: This only works with the following browsers: Google Chrome/Firefox
HOW DO I CLOCK IN AND CLOCK OUT?
About 15 minutes before you start your assignment, the "Check in" field will appear in your Staffcloud app. It is up to you to clock in here as soon as you arrive at the job location. At bigger events, clocking in will be replaced by a QR Code. The team leader will have this code available for you at the location. Simply scan the QR Code into your app with the camera. Now you are checked in. The same applies to clocking out. Again, you either clock out at the end of your assignment or scan the QR Code with your team leader. If any problems arise with the app or you don't have sufficient mobile data, you can simply contact your project leader in the colorbirds office and let them know that you have arrived at the location.
HOW CAN I SEE THAT I HAVE BEEN ASSIGNED TO A JOB?
We recommend you to activate your push notifications in the app. By doing this, you automatically receive notifications, when you have been assigned to a job or turned down. You can see this in the app by the job appearing in the blue "Assigned" field under the "My job assignments" tab. To finally accept a job, you have to click the green "Confirm" button again. Now your assignment is confirmed and you are definitely booked.
HOW DO I DE-REGISTER FROM A JOB?
To de-register from a project, open the app and go to "My invitations" and "See all". The filter symbol in the top right-hand corner will show all the "registered" projects. -> Click on the project, select the days and simply de-register yourself. 
ARE YOU HAVING PROBLEMS WITH THE STAFFCLOUD APP?